2014 Volvo XC90 Earns TOP SAFETY PICK+ in IIHS Crash Tests
In a testament to Volvo's longtime commitment to passenger protection, the 2014 Volvo XC90 luxury SUV earned a Top Safety Pick+ from the Insurance Institute for Highway Safety (IIHS), the Institute's top safety award. The XC90 is the third Volvo model to earn the Top Safety Pick+ accolade since the Institute began testing for small overlap protection in 2012. The 2013 Volvo S60 luxury sedan and 2013 XC60 crossover each earned the prestigious honor during earlier tests.
To earn Top Safety Pick+, a vehicle must pass a series of crashworthiness evaluations, including the small overlap front test - a real-life scenario that replicates what happens when the front corner of a vehicle strikes another vehicle or an object. "Small overlap collisions at high speeds are often very severe," noted Adam Kopstein, safety and compliance manager for Volvo Cars of North America. "For decades, Volvo's research testing has addressed these crash scenarios because our commitment to safety is at the core of our values."
An all-new XC90 will debut at the end of 2014 and go on sale in early 2015. It will feature Volvo's next-generation safety and driver-support technologies, including Pedestrian Detection in Darkness and Road Edge and Barrier Detection with Steer Assist.
MotorTrend
MotorTrend joined us to watch the XC60 conquer IIHS's new Small Overlap Frontal Crash Test, and they weren't disappointed. In the test, 25 percent of a car's front end on the driver side strikes a 5-foot-tall rigid barrier at 40 mph. The test is designed to replicate what happens when the front corner of a car collides with another vehicle or an object like a tree or utility pole. Outside of some automakers' proving grounds, such a test isn't currently conducted anywhere else in the United States or Europe.
Watch MotorTrend's DownShift video featuring the Volvo XC60.

The Crash Tests
Here are several videos recorded during the IIHS New Small Overlap Frontal Crash Tests of the S60 and XC60. "Nearly every new car performs well in other frontal crash tests conducted by the Institute and the federal government, but we still see more than 10,000 deaths in frontal crashes each year," Institute President Adrian Lund says. "Small overlap crashes are a major source of these fatalities. This new test program is based on years of analyzing real-world frontal crashes and then replicating them in our crash test facility to determine how people are being seriously injured and how cars can be designed to protect them better. We think this is the next step in improving frontal crash protection."

Our Vision 2020
Our long-term vision at Volvo is that by 2020 nobody will be seriously injured or killed in a new Volvo. Ultimately, that means designing cars that do not crash. It's a unique and bold vision in our industry - after all, we've committed ourselves to a specific date. Not only that, in typical Volvo style, our long-term vision has regard for others, too. Because cars that don't crash not only keep their passengers safe - they also protect other road users, including pedestrians. We're working to achieve our Vision 2020 by teaming up with industry partners and government agencies, by fitting our cars with preventive and protective safety systems, and by studying how people behave in real-life traffic situations. All this helps us engineer innovations that focus on the most important thing of all: your safety and that of those around you.
You can view more information on the S60's Small Overlap Frontal Crash Test results in the chart below.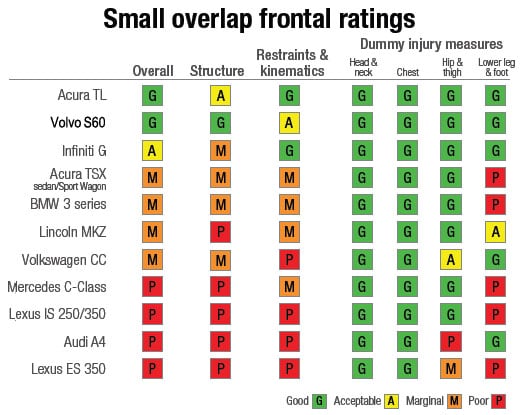 You can find the full report on the
IIHS Website